Here we are, with five months of TAB under my belt. There are things that are going very well, some things that need to be tweaked, and some things that are a bit disastrous. As expected with a completely new teaching philosophy. Where to start; the good, the bad, or the ugly?
How about the good. My students are DEEP. Some of the things they write for their artist statements blow me away. Take these examples:
Here is a splatter painting by a fourth grader.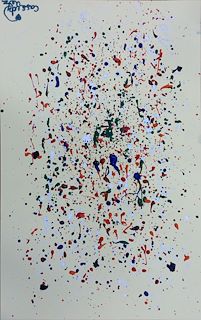 I think that all people on earth of all different shapes, sizes and colors should come together in peace. Like how the dots of all different shapes, sizes and colors come together as one art peace.
Or this self portrait, also by a fourth grader.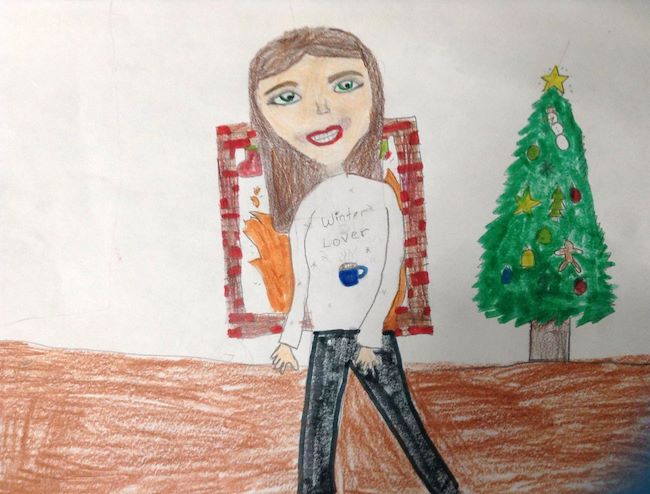 This picture Is my wow work,self portrait,and foreground middle ground and Background I made this drawing because I love Christmas and winter.
Or this collaborative project by two fourth graders (my fourth graders are pretty awesome this year).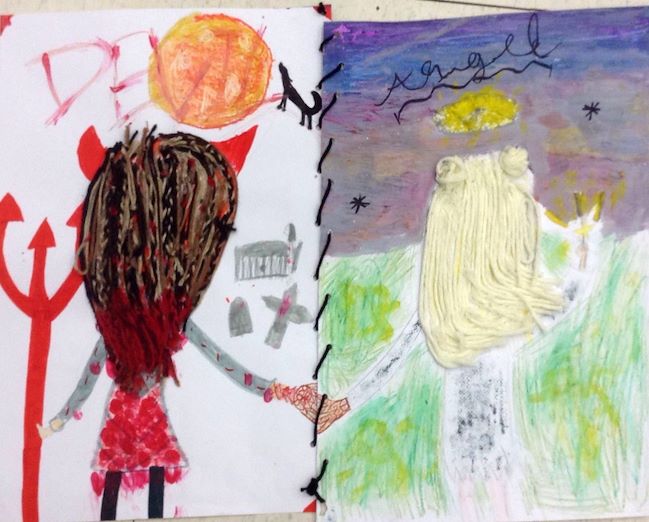 My friend Maeve and I wanted to do something for Halloween, but it ended up being almost thanksgiving! We added lots more ideas as we worked such as, the background foreground and middle ground, and the hills and halo for the Angel, the moon, graveyard, pitchfork, and the wolf. It's also about two people who have different life styles but still are friends.
How about one from a fifth grader.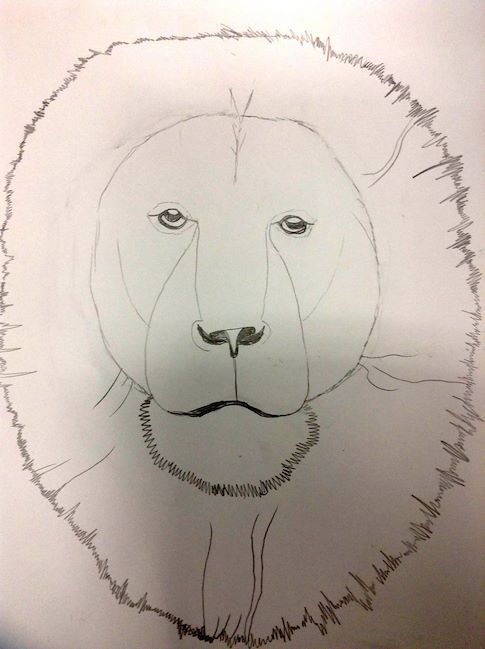 My wow work is definitely considered a wow work because I didn't copy anything;sure I looked at a picture but that was to get an idea. I didn't use the picture to draw it. My work has texture in the main,and was left uncolored because I didn't want to ruin my lion.
Now, I'll admit these are some of the best artist statements. We are working in deepening these statements in the coming months.
We are tweaking clean up. There are way too many students who seem to think it's okay to ignore me when I tell them it is clean up time. The younger the students, the worse this problem is. I am hoping to come up with a solid plan of action for this soon. Actually, this might belong in the things that are not going well part of this reflection. . .
I think the biggest challenge for some of my students is coming up with their own ideas. A few weeks ago we discussed starting a creative "bank account" of ideas and students in second through fifth grades opened their own creative bank account and put in as many inspirational things as they could in their class time.